About Artist
Grant Wiggins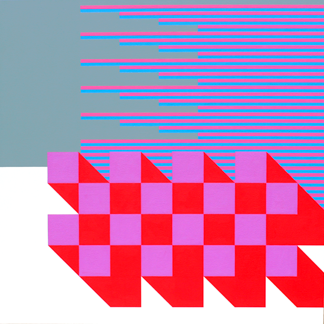 Grant Wiggins makes colorful paintings with dynamic compositions and clean lines. His vibrant geometric paintings draw upon the energy of contemporary graphic culture. He describes his work as "part minimalist, part maximalist," and he's never satisfied to produce art with only one kind of "look."
Wiggins has exhibited his art in numerous galleries and museums throughout American Southwest. This summer, he will be exhibiting in the Arizona Biennial, at Tucson Museum of Art, for the fifth time. A self-representing artist, he has collectors throughout the United States and Europe.
New Paintings
by Grant Wiggins
Art by Grant Wiggins in Shows
The Latest Art News
Wearable Art: Jil Sander Fall / Winter 2015 Menswear Collaboration Debuts
Now Showing Three Paintings in Arizona Biennial 2015 at Tucson Museum of Art
Email Newsletter
Subscribe to Wiggins's email newsletter for news about upcoming shows and collaborations.
Signed Prints for Sale
"Circles with Corners" Unframed Print
13 x 19 inches
33 x 48 cm
Digital print on archival paper
"Green Machine"
Framed Print
10 x 10 inches square
25 x 25 cm
Digital print on archival paper