I am pleased to announce that my painting FF0000uturo, shown here, has been selected for the 2007 Arizona Biennial. The exhibition will be hosted, as always, by the Tucson Museum of Art.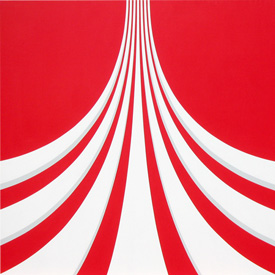 The 2007 Arizona Biennial will run from May 19 through August 19. The guest curator is Ms. Dianne Vanderlip, curator of modern and contemporary art at the Denver Art Museum.
My painting's appearance marks the third straight time in which I will exhibit in an Arizona Biennial, a fact of which I'm very proud. In 2003, To Rinse Away the Tiny Particles was selected by guest curator Toby Kamps, now director of the Institute for Contemporary Art in Portland, Maine. In 2005, Synthetic Landscape was chosen by Siri Engberg, curator at the Walker Art Center in Minneapolis.
Here's a bit of trivia: Last time around, only Kevin Lucero Less, Oliver Hibert, and I had shown in both the 2003 and 2005 AZ biennials. Oliver didn't apply for the show this time. Had he, however, he certainly would have been shown again, too. (Oliver, I've already told you this, but it's not going to be the same without you!)
So, my friends, I hope you can make it to the Tucson Museum of Art this summer to check out the show. The biennial is always an interesting cross-section of what's going on, in terms of the arts, in this strange and sublime state I call home.
Tags: arizona biennial 2007, shows