I don't care about the scandal concerning former American Idle — I mean American Idol — contestant Antonella Barba. (If you're not familiar with the story, some topless photos of her were revealed online a few weeks ago. She was voted off the show by judges this week. No longer a contestant, Antonella Barba is now free to speak with the media.) Big deal!
What I do care about is the tremendous favor Antonella Barba did for bad 70s geometric patterns! She wore a seemingly custom minidress that looks like it was made from vintage Dekoplus fabric. The pattern is glorious!
The moment I saw the dress on TV (On E! network … I swear it was an accident!), I knew that I had to find images of it and do something with it. In tribute to the 70s geometric pattern, I recreated the pattern in Illustrator, with a different color scheme — a cross between Froot Loops and the logo of Wynn's USA (an automotive maintenance company). I also made the collage below that. Consider all of this filed away for future use.
Thank you for pushing bad 70s geometric patterns further out into the mainstream, Antonella Barba! Meantime, if you know anything about the original pattern or dress, please email me at wiggz@wiggz.com.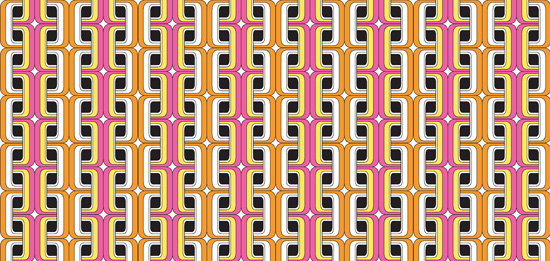 Tags: geometric art