I'm happy to say that I just finished An Error Occurred While Processing This Directive yesterday, a photo of which is shown below. I'm not sure where the idea came from or what it all means, but I'm stoked that I got it done and I'm ready to move on to the next idea rolling around in my brain!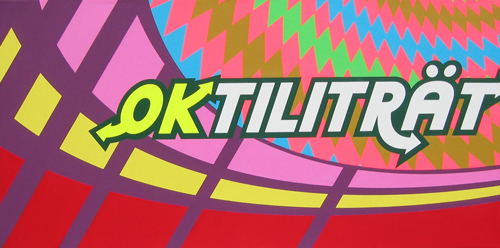 On that note, a couple of weeks back I came across a fantastic article in New York Magazine titled "Has Money Ruined Art?" Author Jerry Saltz raises some important questions about what's going on in the "art world" (a term I have never been comfortable with) today: students charge $25,000 for paintings, art collectors view pieces as currency, "third-rate product" by "second-rate artists" is going for half a million dollars U.S.
Reading this article, I wondered to myself what I've been missing out on, if anything, considering how that kind of talk is completely foreign to me. I deliberately chose to live in Phoenix, rather than move to New York, because 1.) I don't care what's going on in the "art world" and 2.) the quality of sunlight in Phoenix is phenomenal. There's nothing like the Arizona sun striking fluorescent paint.
Ultimately, I have chosen a life that is not affected by market pressures. I can paint whatever I want. And I think it's totally appropriate for so much boring, insipid art to command high values. That's typical. The "art market" (another term I dislike) has never made sense to me. The quality of a work of art and its value rarely match up. What's more, wealth does not guarantee taste. Lots of mansions are filled with utterly hard-to-look-at works of art.
Mr. Saltz's article also quoted art critic Peter Schjeldahl as saying that the excess of money flowing around has "allowed many artists to lose what should be the No. 1 lifelong fear of all artists: making a bad piece of art." I've reflected considerably on this quote, and I respectfully take issue with it.
The process of making art, for me, is not a matter of good vs. bad. That kind of thinking is very Western, and needlessly reductive. I do not think of right versus wrong, or worry whether a painting will be good. At one point, I did, and it got me into considerable trouble. Rather, I see art-making as a process that starts with trusting oneself. You have an idea, you go with it. Don't second-guess it. Just let the process be the guide. The self will shine through. Whether others will like what I make is another matter; I cannot control that. I simply try to enjoy the process of making. And if my work comes off as seeming like The Weirdest Art in the World, so be it.
To sum up, artists have to make art for themselves. Money, social prestige, critical praise, biennials — all of that just messes things up, in my opinion. And that's why I live completely off the "art world" map.
Tags: pop art