My newest creation is in a medium that's entirely new to me: vinyl on plastic. I made it specifically for a show going on next month at art6 Gallery in Richmond, Va., called Art in a Box. The parameters of the show are pretty simple: works "may be wall, pedestal, or shelf pieces, and the theme is open to interpretation," write the show's organizers. "Size limit is 12 x 12 x 12 inches."
I took a fairly literal interpretation of the box theme. Purchased an inexpensive plastic cube, spray painted the interior with white plastic spray paint, then applied vinyl decals (a geometric star pattern I designed a while ago) to the clear front. The name I chose is "Qubiqzirq," as in cubic zirconia.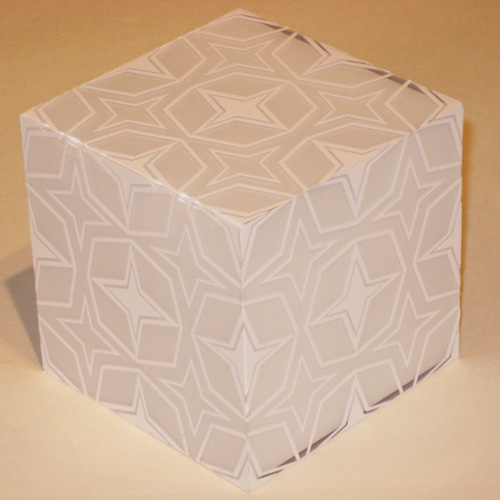 Ultimately, this was an experiment … perhaps nothing groundbreaking visually. When I finished, the piece seemed like something Jim Isermann would do. Regardless, Qubiqzirq is more like a proof of concept to see how to make something and where I might be able to take it in the future. I'm very interested in making a series of "plastic paintings" — vinyl on fluorescent plexiglass. If anything, just to do something more involved than acrylic on canvas.
Tags: miniature art, shows