Here's a rough panoramic shot of two minimalist paintings: FFFF00uturo (on left) and Oräännjj. Just made some final touch-ups on the top side of FFFF00uturo. Now I'm off to the storage center with both.
A while ago, someone asked me how I know when I'm done with a painting. I think there's two ways of reaching an end point to a painting: 1.) When you just don't feel like working on it anymore — any further step feels like overkill, and 2.) When your touch-ups start doing more harm than good — in other words, when you find that your touch-ups necessitate more touch-ups. I'm at #2 with FFFF00uturo.
Next up: I'm looking forward to starting Like Antique Shopping 100 Years Ago (See my art blog post from March 5, 2007.) and maybe jamming out a couple of small pieces, just to see what happens.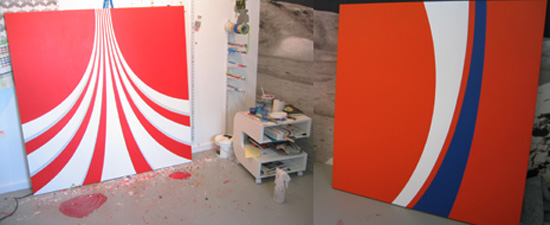 Tags: in the studio