Had kind of an epiphany yesterday. More like a realization. Whatever it was, I see myself, and my work, in the middle of a change. What I learned: my minimalist art works (reductive compositions) and acid pop paintings (busier pieces) do not mix well. Of course, I've intuited this many times before. This time, however, the realization really hit home.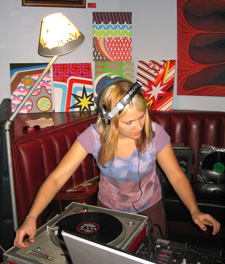 My friend Tatyana Koziupa spinning some records Wednesday night at Plaid, in Tempe. A few paintings in the background. Showing these pieces together, I felt like something was off. Perhaps this foretold a swing back to minimalism.
This new insight came to me yesterday when I was putting together some marketing kits, for galleries — just trying to get my work out there. With some prints within the kit, I placed minimalist and abstract acid pieces on the same pages. The result? They battled each other. But the shocker was that the minimalist work had more gravity or pull. It seemed much more interesting to me.
Over the past four years, my thinking has gone back and forth between minimalism and maximalism (the acid stuff) — two poles on the compositional spectrum.
Theoretically speaking, minimalism makes much more sense to me. And there's the simple fact that there isn't enough minimalist painting going on, in general, in my opinion. (I truly admire the work of Stephane Dafflon. Frederick Hammersley is a legend. And I really like Jim Isermann and Sarah Morris, too. Jo Baer and Jeremy Moon are other favorites.)
For quite some time, I thought I had to choose between styles. Sometimes, my internal debate was pretty frustrating, almost creatively paralyzing. The moment I embarked upon a minimalist approach, I started getting ideas for the other approach. Yet, last summer, it dawned on me that I didn't have to make choices. I would just keep painting — doing what I wanted to, having fun, no categorization, no rules — the way it was when I started out, making parodies of cleaning products, like a next-generation version of the earliest work of Andy Warhol.
Nevertheless, this "no rules" approach causes some problems when I'm trying to explain what I do in a paragraph or less. The dichotomy seems like a schizophrenic lack of focus.
Perhaps continuing to paint acid pop pieces is just a sign that I haven't wanted to let my "old style" go.
Since late January, I've been experimenting, trying to push the acid pieces forward. In the process, I've neglected the minimalist side of my work. Given what I learned yesterday (the conclusion of this blog post starts here), I've determined to refocus on minimalist and design-oriented pieces for the next few months. I will reevaluate where it's all going at the end of the year. Meantime, if I jump back into the busier compositions, it's just purely for fun, as an experiment, just jamming some ideas out, mashing patterns and stripes together.
Therefore, expect to see a concentration on more streamlined, simplified compositions from me in the near future.
Tags: maximalism, minimalism