I'm not really into the term "abstract painting," but since I really don't know how to describe my art, then I have to settle with terms that the rest of the world uses. Abstract painting can mean anything to anyone. It's almost a useless term.
That said, here's a new abstract painting in the works. It's called Acid Battleship Amylase, measures 60 inches square, and—thanks to a yummy fluoro yellow-chartreuse base—glows under blacklight.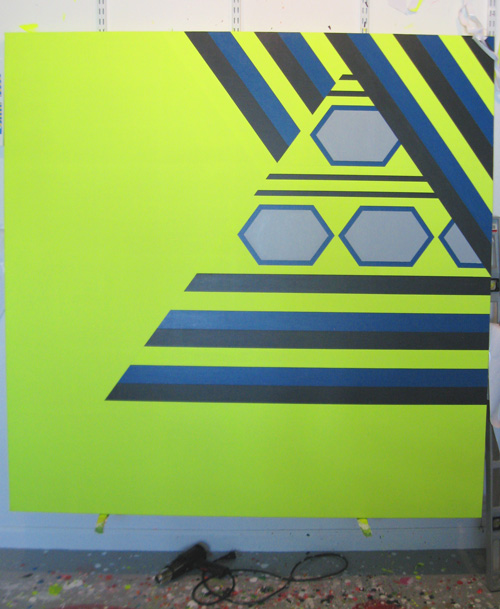 But wait! There's more! Below is the original sketch for this new abstract painting. I think the blue paint I've chosen is a little off. I prefer the 0F72B1 that I see below.
I haven't ditched my maximalist style of painting. I may not feel like painting this way all of the time, because my mind changes and I go through phases. But when I do paint maximally, I'm out to produce the most radical structuring of shape and color possible, in my own way.
Some of my readers have suggested that they're more interested in my maximalist style, compared with my minimalist style. I understand this … but there has to be room for both styles of new abstract painting in my creative life. I hope that makes sense. I haven't lost anything … or given up on anything. If anything, I'm gaining; I'm working; I'm learning as I go.
Beyond that, I can't stop listening to Ceephax Acid Crew, aka Andy Jenkinson. Check out the free downloads on his site. Be warned: The tunes are infectious.
Tags: abstract painting, maximalism, paintings