As a friend of mine says, "Anything worth doing is worth not doing for money." And I completely agree: If love to do something, you don't care about the stuff that happens after you do it — the happy byproducts, such as sales or awards. The work, itself, is what matters. The work is its own reward.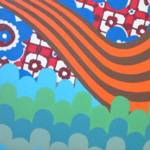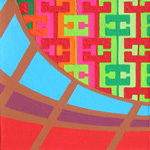 Three miniature paintings:
I have exhibited in Think Small series of miniature art shows in 2005, 2007 and 2009. Above are
Tgxgncvkqp 34
,
Omnicron's Dilemma
, and
Telomir 9
. Each miniature painting measures 3 inches square.
---
I was reminded of my friend's maxim last night, when I was informed I had sold my miniature painting on display at the Think Small 5 miniature art show, called Telomir 9. (The buyer was a friend of a friend … and my friend was in the show, too … and his work sold, as well … but it all still counts, right?)
I decidedly priced this framed miniature painting, which measures 3 inches square, "to sell" — at the low, low, randomly determined price of $47.10. (I used the random.org integer generator; I asked for a number between 4000 and 6000, and out came 4710. Perfect, I thought.)
Sure, selling a work of art is gratifying. And I was naturally pleased by the news of the sale. Yet, somehow that wasn't enough; I soon found myself puzzling over the financial side of the experience, scribbling a profit and loss calculation on a scrap sheet of paper:
| | | |
| --- | --- | --- |
| Sale price | | $47.10 |
| Gallery commission | | – 23.55 |
| Cost of shipping | | – 14.70 |
| Cost of frame | | – 5.39 |
| Cost of materials (estimated) | | – 1.00 |
| Gross profit | | $ 2.46 |
The above calculus deliberately excludes the cost of transportation to the shop where I bought the frame, as well as overhead. Were I calculating net profit, there wouldn't be a profit, I am sure.
I also began to consider how much time was invested into making the work. I actually had to make the painting twice, because I wasn't happy with the first iteration. All told, I believe I devoted five hours to the process of making, and maybe one hour to fitting the painting into the frame, packing and shipping. That means six hours, or 41 cents per hour.
What does all of this mean? I don't know, frankly. And I really don't care, either. If I were to make paintings purely with profitability in mind, perhaps I'd frustrate myself horribly — even though it does sound tantalizing to produce a glossy, Fortune 500-style annual report, detailing all art-related financial activity for my collectors and interested parties!
Contrast this experience to news about the new wave of art auctioned at Christie's and Sotheby's this week. The latter auction raked in $181 million on Wednesday; Kees van Dongen's 1910 Jeune Arabe, alone, was claimed for a record $13.8 million U.S.
All I need to do, now, is sell 15,000 paintings, just like this, every year. Then I'd be in business!