Afterword on October 2, 2008: I've since put this project on hold, simply because I have a few other commitments. One of them is implementing a redesign of this site. While I was very excited by the time component of this project at the outset, I quickly realized it just wasn't realistic. I will return to this project in time.

This weekend I have embarked upon a ridiculous art experiment, in an effort to unlock new approaches to making work and force my mind to try new compositional methods.
The experiment relies on the wisdom of randomness as a foundation for producing a series of 15 paintings, based on the materials I have on hand. My goal is to paint these pieces by the end of the year.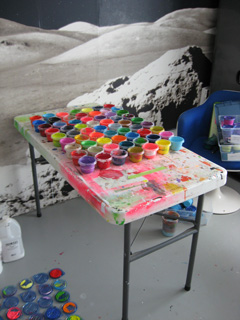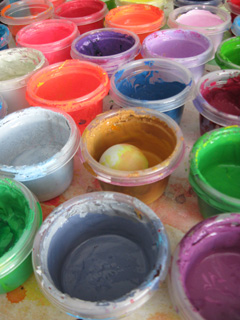 At left, the paint cups before the "beer pong paint lottery." At right, a ball lands in the cup.
---
In this experiment, I used randomness 1.) to determine the size of the canvases I will paint and 2.) to select paint color combinations for each painting.
Painting sizes were determined using the Random Integer Generator at random.org. This random number generating tool selected the length of stretcher bars, from 8 to 26 inches.
The process of determining each painting's color combinations was slightly more complicated and chaotic. It was a lot like beer pong. I got together 70 cups of "leftover" paint (an ounce here, two ounces there) from paintings I've already made — it's a bit like recycling. I arranged these cups onto my painting table, from which I bounced a ping-pong ball. When the ball landed in a cup, that paint would be set aside and put into a group number. In sequential order (Group 1, Group 2, etc.) five paint colors were assigned to each painting.
Once canvas sizes and paint combinations were determined, I held a "draft" to assign paintings with color combination groups. I then held yet another draft to establish the sequence of production.
The experiment has led to some predictably unexpected results:
My first painting is 18 inches high by 19 inches wide, and will include navy, light blue, yellow, fluorescent orange, and fluorescent red-orange.
The seventh painting, as another example, will be 22 inches high by eight inches wide, and will have turquoise, light blue, pine green, light green, and purple as a basis.
The 14 paint groups. The 15th paint group is a "wildcard," to be used in the fourth painting in this series.
---
Why I have gone down this path? People who know me well that I've long enjoyed adding randomness into the creative process. I see randomness as a way of challenging the mind to try new things. Contestants on TV shows such as Project Runway and Design Star, for example, have no idea what project will be thrown their way next. When you're invited to create an installation in a gallery or museum, a room's dimensions is pretty much a set of random variables.
I have found that I am more prolific when I have more parameters around my work, which randomness provides. Dealing with random variables in the creative process is also a way of testing one's wits. Plus, randomness can be a lot of fun, as it leads to unexpected results.
Random Art Series: The Official Table
| | | | |
| --- | --- | --- | --- |
| Painting # | Size | Paint Group | Projected due date |
| 1 | 18 in. x 19 in. | 8 | Sep 25 |
| 2 | 21 in. x 14 in. | 3 | Sep 30 |
| 3 | 12 in. x 16 in. | 2 | Oct 7 |
| 4 | 13 in. x 8 in. | Wildcard | Oct 12 |
| 5 | 20 in. x 11 in. | 5 | Oct 18 |
| 6 | 17 in. x 20 in. | 7 | Oct 24 |
| 7 | 22 in. x 8 in. | 10 | Oct 31 |
| 8 | 21 in. x 25 in. | 11 | Nov 9 |
| 9 | 19 in. x 8 in. | 13 | Nov 16 |
| 10 | 17 in. x 26 in. | 12 | Nov 23 |
| 11 | 22 in. x 19 in. | 1 | Nov 30 |
| 12 | 23 in. x 11 in. | 9 | Dec 8 |
| 13 | 25 in. x 8 in. | 4 | Dec 15 |
| 14 | 18 in. x 21 in. | 14 | Dec 22 |
| 15 | 9 in. x 26 in. | 6 | Dec 31 |
Tags: painting techniques
5 Responses to "Random art: A new series of paintings inspired by randomness"