It's been a busy past two months for me in my studio! I completed a pair of commissions, and finished one other new painting in addition. Likewise, I received some great media coverage from The Arizona Republic regarding my collaboration with Jil Sander.
Images of these new paintings are now officially a part of my online portfolio. I'd like to introduce these new works with you here.
The first is a commission that I made for a wonderful couple from Mobile, Alabama, who has collected my work for several years.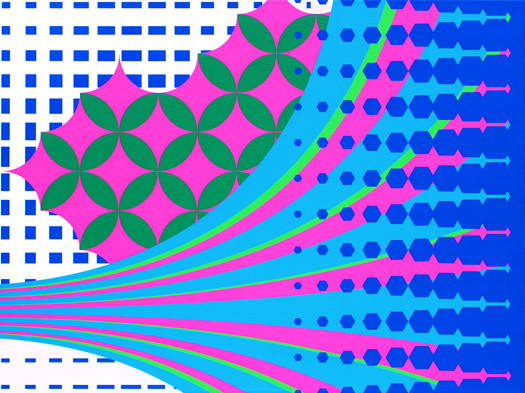 Keep Going
. Acrylic on canvas. 36 x 48 inches. August – September 2015.
---
This piece was a surprise birthday gift. My collectors asked to combine graphic elements from my paintings that rank among their all-time favorites. The process was highly collaborative. Determining the size of the painting was just the beginning. Our conversation covered which elements to incorporate, as well as which colorway to use. The painting pictured above was selected from dozens of iterative sketches!
The other commission I finished recently was a remix of my 2011 painting Waveform — a piece that a San Francisco couple purchased, but was unfortunately damaged in transit. Thankfully, the piece was fully insured!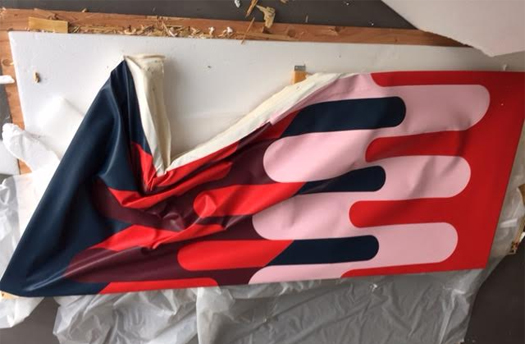 Waveform
, which arrived damaged beyond repair.
---
Because the idea of exactly re-creating the original piece seemed wholly macabre, I offered to make a replacement piece with a customized colorway. The result is Waveform 2 by Grant Wiggins, which I produced between October 8 and 21.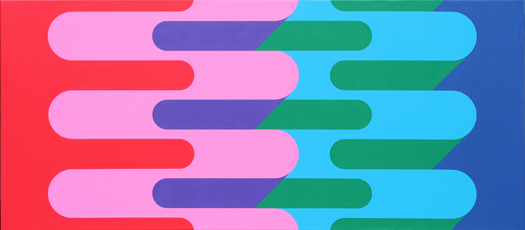 Waveform 2
. Acrylic on canvas. 30 x 68 inches. October 2015.
---
Between these two commissions, I found just enough time to complete one larger piece, titled Time to Reorder. I truly felt lost in time making this one! Although it has a somewhat 1970s geometric vibe, this painting seems to me like it could be made at any time in the future.
Our cultural preoccupation with time is a topic that has bounced around in my mind frequently of late. Why must we think of things in the context of time, of when things are made? All art, no matter how old, was new at one point in time. Design that is considered "classic" now will probably be considered classic in the future. Time has a way of proving what's good. But still, we seem to discount things, no matter how good, that are more than a few years old.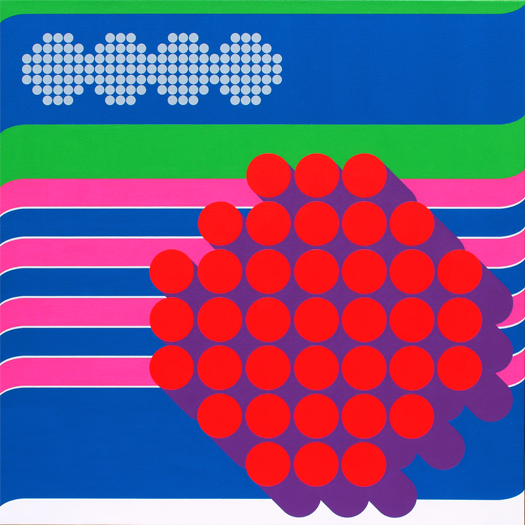 Time to Reorder
. Acrylic on canvas. 40 inches square. September – October 2015.
---
Another painting that touches upon time is 19-6983, which I painted a year ago, but only recently decided to add to my portfolio. This painting is purely me having fun with remixing one of my all-time favorite 1960s textile prints, but with early '80s stripes. I never couple pin down its origin. But I've enjoyed having this piece hanging around in my studio, and thought the rest of the world would enjoy it, as well.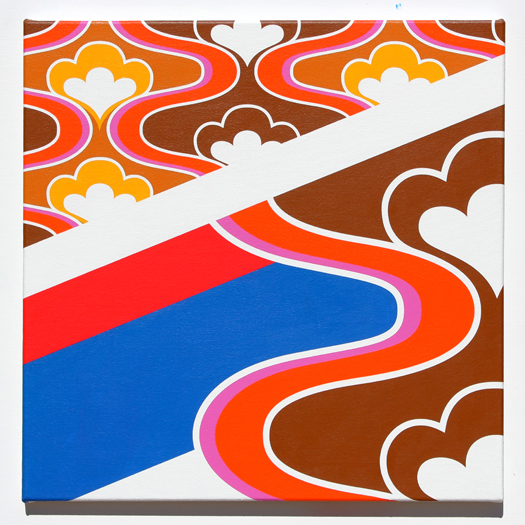 19-6983
. Acrylic on canvas. 20 inches square. September – October 2015.
---
As ever, more work is on the way. I look forward to sharing my work with you as it develops. To be among the first to see what I'm up to, sign up for email updates from my blog.
— Grant Wiggins