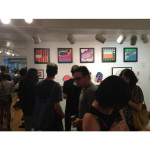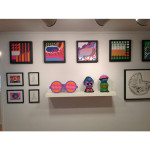 My current group show, Vivid Visions, opened in Portland last night. Above are the first images I'm able to share. Thanks to my good friend — and fellow Vivid Visions artist — Spencer Hibert for graciously furnishing these photos.
The complete collection of works on view in the show is now available at Compound Gallery's web site. I sincerely invite you to check out this online catalog. In addition to my own six paintings, you'll find an impressive collection of imaginative works by Arbito, Buff Monster, Oliver Hibert, Spencer Hibert, and Martin Ontiveros. Lots of tripped out colors and imagery!
I will be adding more installation photos of my work as they become available.