Texas Christian University and Boise State University showing off a Fiesta Bowl color combination extravaganza. Photo title:
gd13
, originally uploaded by
tcuphotos
via flickr.
---
On Monday night, not far from where I live, the Tostitos Fiesta Bowl happened. If you don't know much about — or have an appreciation for — American football, I shall describe the event to you like this: A team of men — who wore super-bright orange pants, white shirts, and blue helmets — converged around a green rectangle with another team of men — who wore purple-black-and-gray pants, purple-and-black shirts, and gray-and black-helmets with red trim — to battle for possession of a dark brown ovoid.
Fans of each team wore the aforementioned color schemes as they sat, stood, and jumped around while all of this happened for about three and a half hours.
I did not watch this game. (I seldomly watch college sports; no real reason why.) Apparently, though, it was an entertaining game to watch.
Regardless, there was something in this game that reminded me of an idea that has rolled around in my mind for a long time: When two teams — with two very different mascots and geographic constituencies — match up against each other, their respective color schemes are destined to collide and create an equally horrible and beautiful overarching color scheme.
In the case of the Tostitos Fiesta Bowl, the big, overarching color combination can be extrapolated — more or less — into this eye-twisting set of stripes. (Thanks to stripegenerator.com.)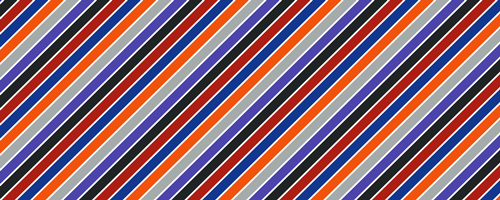 Consider the clash of colors that was witnessed in Super Bowl VII, when the Washington Redskins played the Miami Dolphins: burgundy, yellow, aqua, coral orange, and white. And when the Green Bay Packers play the Arizona Cardinals this weekend in the NFL playoffs, there's going to be plenty of dark green, athletic gold, cardinal red, black, and white on display. (Egad.)
Do you have a favorite sports color combination? I invite you to share your story below.