Artistically speaking, my year started off in creative overdrive. Over the course of the first nine weeks of 2011, I muscled my way through 14 paintings, covering 12,436 square inches (more than 86 square feet, or 8 square meters) and incorporating practically every color in the spectrum. Today, I am finally able to take a well-deserved break.
Eleven of the new paintings are on display in 4square, a show that's on view at Squeeze Gallery in Scottsdale through March 24. The other three works are large original art paintings in my characteristically geometric approach. Here, I'd like to introduce these new pieces to you and offer the story behind each.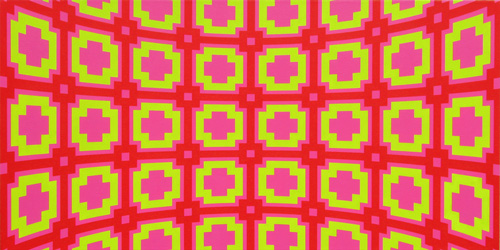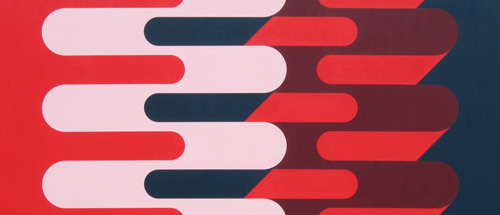 From top:
Flat Warp
,
Meltdown
, and
Waveform
.
---
Measuring 30 by 60 inches, Flat Warp is a painted realization of an idea I had two years ago for a wall mural. From corner to corner, the painting is covered with fluorescent paint. While producing this piece, the refracted light was so intense that room behind me seemed dark when I turned away from my easel — just like when you come inside after swimming on a bright summer day. Simply put, this painting was not intended to match your sofa!
At 70 by 48 inches, Meltdown also marks a return to a previously realized idea: a "paper painting" called Bad Taste Outerspace Meltdown, part of a series of eight works I exhibited in the Meltdown art show at Soyal Gallery last summer. The paper piece is quite small (6.5 by 4.625 inches) and was the product of experimenting with a pile of cut-up colored papers. Since I had so much fun making the paper piece — it developed so naturally and spontaneously — I have considered refashioning it into a larger acrylic painting numerous times over the ensuing months.
Waveform, the most recent painting of the three, measures 30 by 68 inches. It fits within the Sinewaves and Shockwaves collection of works I produced for my current Squeeze Gallery show. This painting originated as a digital sketch; in fact, I used this image as the header for my Winter 2011 email newsletter. (I encourage you to sign up for it.) I like how this painting offers a sense of dimension and space, but ultimately it's a flat pattern.
Thank you for taking time to read about my newest works. I hope to make many more paintings throughout 2011!
Tags: abstract painting, geometric art, paintings