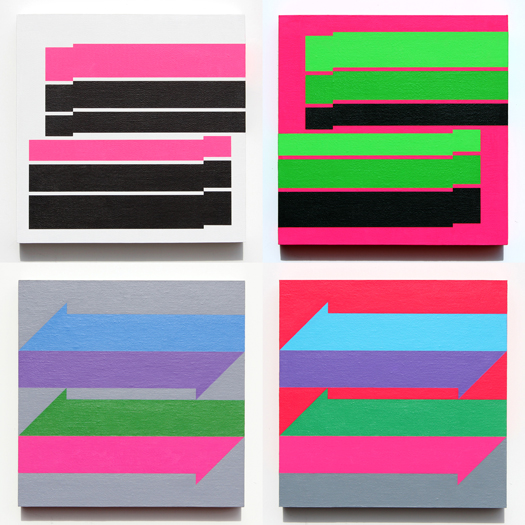 I will be showing four minimal, hard-edge paintings in
Celebration
at Octavia Art Gallery in New Orleans, February 4 – 25, 2017.
---
I am thrilled to announce that I will be showing at Octavia Art Gallery in New Orleans throughout February, in the group exhibition Celebration.
Four of my minimalist, hard-edge studies will be on display in Celebration, which Octavia Art Gallery describes as "an exhibition that reflects the joie de vivre during the Mardi Gras season, concentrating on the celebration of life through art."
Fellow artists showing in Celebration are Muffin Bernstein, Sara Carter, Marina Dunbar, Shirine Gill, Diana Greenberg, Betsey Gravatt, Ken Nahan, Tom Nussbaum, Max Ryan, and Sam Schonzeitz.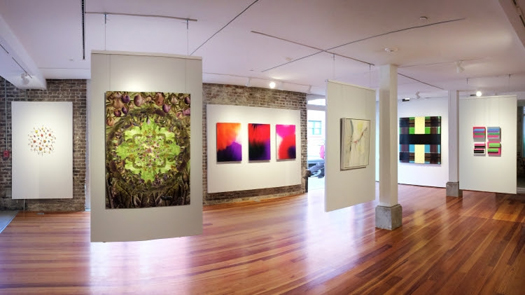 An installation view of
Celebration
at Octavia Art Gallery in New Orleans.
---
As artists, not only do we have Celebration in common, but we also have collaborated with Octavia Art Gallery recently to create artworks for Memorial Sloan Kettering Cancer Center, with locations in New York and New Jersey.
As art curators for these spaces, Octavia Art Gallery has sought to provide "soothing and healing environments for patients and administrators."
"Our approach is to provide artworks that have an inspirational effect on the well-being of others," the gallery explains. "Research concludes that art can change an individual's physiology and have a calming and therapeutic influence. Through a careful selection of artworks and commissioned pieces, the gallery focuses on works that transcend the viewer."
Last autumn, I produced a series of colorful minimalist paintings for Memorial Sloan Kettering's corporate offices in New York City. I was encouraged to work in bright and cheerful colorways, in an effort to convey positivity and contribute to an uplifting and inspiring environment.
It has been an absolute pleasure and honor to work with Octavia Art Gallery Director Kristina Larson over the past few months. Repeatedly I have been impressed by Kristina's professionalism and positive attitude throughout our creative collaborations.
Thanks to Octavia Art Gallery, you'll also be able to find my work listed on Artsy.net and 1stdibs.com.
Octavia Art Gallery is located at 454 Julia Street, in New Orleans. Learn more at octaviaartgallery.com.