My friend Aimee is a fine art collector and modern design enthusiast who owns a couple of my paintings. Looks like her cat is a fine art collector, too.
Here is a recent photo of Aimee's cat with my painting Ffyuramei in the background. I really dig how the cat's eyes match the painting!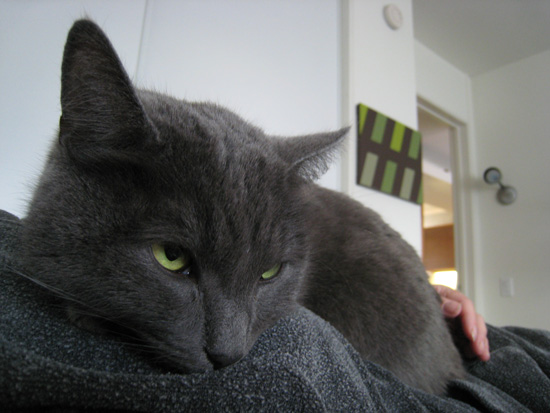 Are you a fine art collector, too? I invite you to check out my paintings gallery and my online art shop.
In other goings on: the last few days have been pretty hectic, thanks to some freelance writing gigs I've been working on. But I'm looking forward to making more posts soon, once things chill out a bit.
I'm currently making a painting based on the second sketch found in my March 24, 2007 blog post, "On Minimalism and Pop Art." Progress is good — hope to have it done by the weekend. More soon!