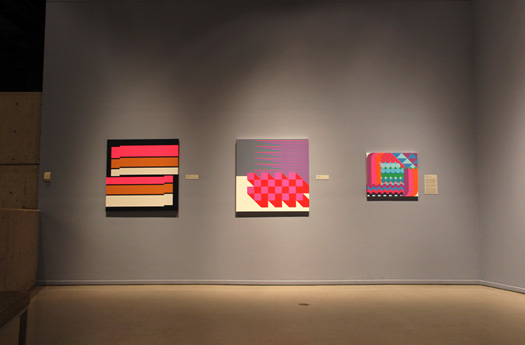 Now on view in Arizona Biennial 2015:
Confluent
,
The Lake a Lilac Cube
, and
A New Way of Thinking About Everything
by Grant Wiggins.
---
Arizona Biennial 2015 was unveiled at Tucson Museum of Art on Friday night, and I was absolutely delighted to experience the show in person at the opening night celebration.
You'll be able to find the three paintings I'm showing at the very end of the exhibition — where the abstract works are located — on what I believe is the museum's tallest wall. I fondly call this the "Great Wall." It has an epic, almost monolithic quality, and for me holds a special meaning.
In 2007, I showed my painting ff0000turo in this exact same location. Having the opportunity to exhibit here eight years later, on the full breadth of the wall, I could not ask for more. I feel both a circularity and a sense of advancement — an awareness of how much my work, my thinking, and my life has changed.
A return to Tucson Museum of Art's "Great Wall":
From left,
ff0000uturo
in
Arizona Biennial 2007
and the same wall today.
---
The curator of Arizona Biennial 2015 is Irene Hofmann, Phillips Director and Chief Curator of SITE Santa Fe. For this exhibition, 530 Arizona artists submitted nearly 1,500 works. Ms. Hofmann selected 50 works by 33 artists.
In her statement discussing her curation of the exhibition, Ms. Hofmann observes that while she "didn't initially set out to develop a thematically structured show," several "strains of exploration" emerged in her review of works submitted. The show is arranged according to those themes.
Works that reflect upon nature, and humankind's impact upon it, open Arizona Biennial 2015. The theme of reclamation is later explored by works that give new life to discarded materials, as well as overlooked, everyday objects. Violence and control are then addressed in a variety of media.
At the conclusion of the exhibition — where my work hangs along with sublime paintings by Mike Stack and Angie Zielinski — "the Seduction of painting offers the last word," Ms. Hofmann affirms. By exploring color, design, and imaginary worlds, she writes, these abstract pieces "insist on the enduring power of painting and offer us the reprieve of visual delight."
The sedution of painting: Abstract works by Grant Wiggins, Angie Zielinski (right), and Mike Stack conclude the show.
---
I am deeply honored to be showing in Arizona Biennial 2015. It is energizing and inspiring to be exhibiting among so many gifted, accomplished artists, who were united by masterful curatorial judgment. I offer my gratitude to Ms. Hofmann and the entirety of the Tucson Museum of Art's staff, who have staged an exhibition that proudly represents the artistic currents flowing through our state.