The Chaos Theory 12 group exhibition opened Friday night at Legend City Studios in downtown Phoenix. Organized by longtime downtown Phoenix-based artist Randy Slack, Chaos Theory 12 brings together new works by 60 Arizona artists.
I chose to exhibit Waveform, I painting I produced in February, but had not shown before. Here are a couple of glimpses.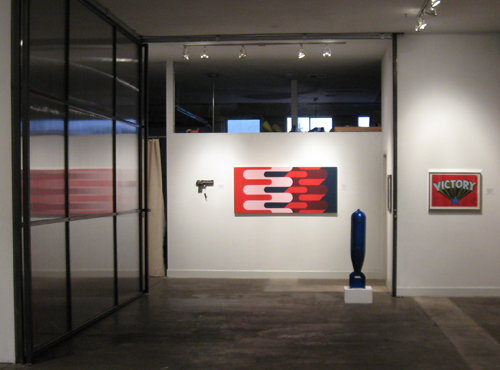 You can find the painting on the gallery's back wall, which is visible from the gallery's entrance, through late November. Legend City Studios is located at 521 W. Van Buren Street in Phoenix. See a Google map.
There is a good chance that the gallery will be open for Third Friday art walk festivities. I will be posting updates about special events, as I learn about them, to my blog, my Facebook page and my twitter feed.
I extend my compliments to all of the artists who are showing in this well-presented exhibition, as well as my gratitude to Randy Slack, for inviting me to participate.