A new poster, based upon one of my recent paintings, will soon be circulating throughout the 10 campuses of Maricopa Community Colleges (MCC), promoting the college system's 26th Annual League for Innovation Student Art Competition.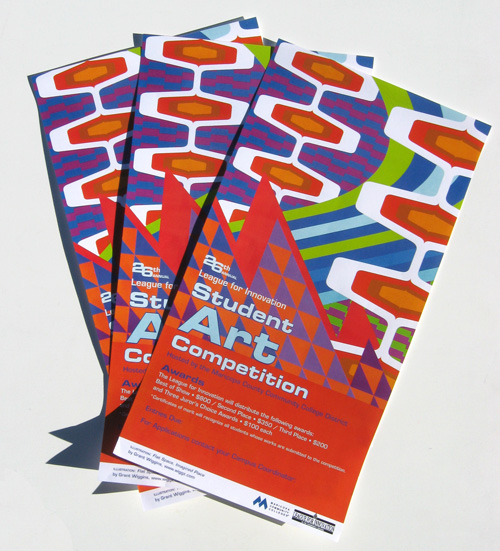 Posters for Maricopa Community Colleges' 26th Annual League for Innovation Student Art Competition.
---
The poster is based upon my 2010 painting Flat Space, Imagined Place. MCC designer Janet Sieradzki used the graphics file that resulted from original digital sketches for the painting. (Since 2001, I have designed all of my paintings digitally before painting them.)
I've enjoyed a fruitful, collaborative relationship with Maricopa Community Colleges over the past several years. In 2004 and 2005, I designed a pair of posters for MCC's Honors Forum Lecture Series. My art has been featured on a 2007 faculty convocation program and a collection of winning entries for a 2007-2008 student writing competition.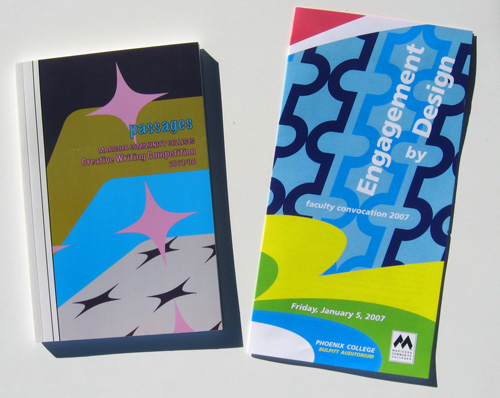 2007-2008 MCC publications featuring designs adaptated from my paintings.
---
Overall, I'm very happy with this new poster, and I'm very excited to see how the art competition turns out. My thanks go to Ms. Sieradzki for inviting me to share my work. It has been a pleasure to collaborate with her yet again!