The Escape Machine
on the cover of issue 69 of
Sonora Review
.
---
I'm honored and thrilled to see my painting The Escape Machine showcased on the cover of the newest issue of Sonora Review. My gratitude goes to Editor-in-Chief Janet Towle for the opportunity!
Produced by graduate students of the Creative Writing Department at the University of Arizona, Sonora Review is one of the oldest student-run literary journals in the country. Since its founding in 1980, the journal has published many highly respected authors, such as Denis Johnson, Mark Doty, Campbell McGrath, Maggie Nelson, Nick Flynn, and Lydia Millet.
Former staff members of Sonora Review include Antonya Nelson, Robert Boswell, Richard Russo, Tony Hoagland, David Foster Wallace, Joshua Marie Wilkinson, Tim Peterson, and Richard Siken.
Work originally printed in Sonora Review has appeared in Best of the West and Best American Poetry, and has won O. Henry Awards and Pushcart Prizes. More at sonorareview.com.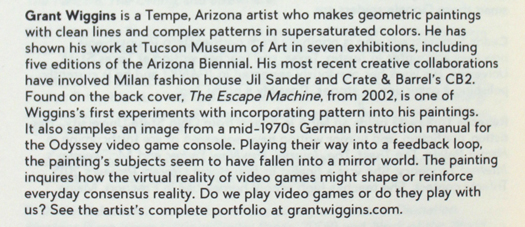 Back cover and artist bio in
Sonora Review's
issue 69.
---
Painted in 2002, The Escape Machine represents one of my first experiments with incorporating pattern into my paintings. It also samples an image from a mid-1970s German instruction manual for the Odyssey video game console.
Playing their way into a feedback loop, the painting's subjects seem to have fallen into a mirror world. The painting inquires how the virtual reality of video games might shape or reinforce everyday consensus reality.
I'm very encouraged to see work I made many years ago find new life. It's also fantastic to have my work appreciated by literary circles!