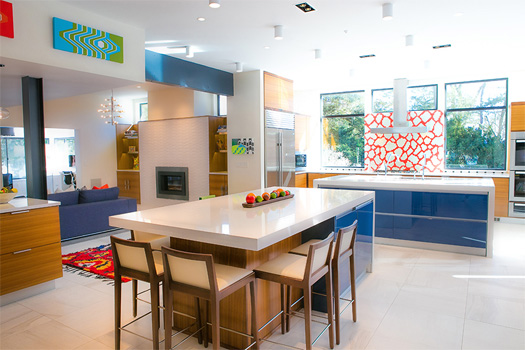 Paintings featured in
Pittsurgh Magazine's
Home of the Year 2014 cover story include
Circles with Corners 26
(hanging on bulkhead) and
Still Life with Supplements and Waveforms
. Photo by Laura Petrilla. Image via
pittsburghmagazine.com
---
I'm beyond thrilled to announce that my paintings are featured in the cover story of the March 2014 edition of Pittsburgh Magazine, as a part of the publication's "Home of the Year" awards.
.
Pittsburgh Magazine has awarded "Renovation of the Year" to the beautiful modern home of Betsy Wentz, an interior designer who owns several of my paintings. Read the full story on pittsburghmagazine.com.
There's a great story behind this story, as well: Michelle Helena Denk, a longtime friend of mine from Kenyon College, purchased my painting Still Life with Supplements and Waveforms (shown above) from me as a birthday gift for Betsy last summer.
Weeks later, Betsy contacted me for more works. In particular, she was drawn to my Circles with Corners Collection. Betsy purchased five paintings in this collection; two of which (Circles with Corners 26 and Circles with Corners 27) she commissioned. These paintings are hung throughout the bulkhead ceilings of her home's first floor.
Circles with Corners 22
is among the paintings featured in the print edition of
Pittsburgh Magazine's
Home of the Year 2014.
---
I congratulate Betsy and her family for winning the award. My gratitude goes to Michelle for connecting us.