Image via
daniele_lavamat on flickr
---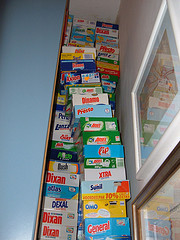 Image via
daniele_lavamat
---
Over the holidays, I rediscovered my love for detergent boxes — especially vintage detergent boxes. I love how their graphic swirls and shapes are designed to arrest the eye. Beyond that, there's something ineffably cool about the way detergent boxes have "all-over" compositions — they use all available space. Throughout this genre of design, it is as if negative space is viewed contemptuously as a waste of space!
That said, thank goodness for Flickr. And thank goodness for people like daniele_lavamat, who photograph and upload their detergent box collections (shown at left). If you haven't seen this collection, and you like packaging, daniele_lavamat's photostream is worth a visit. You'll find fascinating snaps of European brands like Ariel, Dixan, and Soflan.
And there's also IvoryTide's photos of classic American detergent and soap brands, such as Fab, Rinso and Dash. The Rinso box below is gorgeous.
Guess I should upload photos of my detergent box collection, which represents brands like Trend and Biz. Wonder why I haven't already. Regardless, a small part of my vintage packaging collection can be found on Flickr here.