I learned today that legendary space artist Robert McCall passed away, on Friday, February 26, at the age of 90.
Robert McCall, painting a mural at a NASA center. Credit:
NASA
---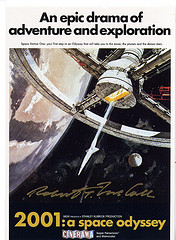 To many, McCall was known as the artist who painted the poster for 2001: A Space Odyssey. Others knew him as one of the great painters of the NASA program, from the 1960s onward.
I had the pleasure of viewing McCall's 2008 show, Imagination Unbound, at the the University of Arizona Museum of Art. I keep a copy of the promotional flier for the show on the wall of my studio, by the door. I see it practically every day, and it helps to set the tone for the art I enjoy making so much.
I have been moved by Robert McCall's bold vision for the future, as well as his precise rendering of concepts and environments that are so challenging to imagine. What's more, I can never get enough of looking at his work. Especially in his most imaginative works, there's always something new to see.
Robert McCall was one of the people that made Arizona great. Knowing that he lived here, just miles away, made me feel better about living here. I am thankful that he so generously donated many of his works to the University of Arizona Museum of Art Visual Arts Archive.
Thank you for inspiring me, Robert McCall. We will miss you.
Below: Fantasia with 23rd Century Megastructures, a 2006 painting I made that was inspired, in part, by Robert McCall.