Throughout late November and all of December, I produced a trio of paintings that were inspired by the idea of the pixel, the archetypal building block of digital culture.
Through the pixel, I had rediscovered the magic of the simple square. Unlike curves, which had seemed so dated to me by comparison, pixels offered a more modern way to express line and color.
The three paintings are now in the Maximalism gallery of my site.
The first in this series was Find Your Way Out. This piece was the result of a creative exercise, in which I held a lottery of preselected graphical elements. In effect, I allowed randomness to determine combinations, which I had to "play" like dealt cards. When I feel a need for a creative spark — or "way out" toward something new — chance is always there to show me a way forward.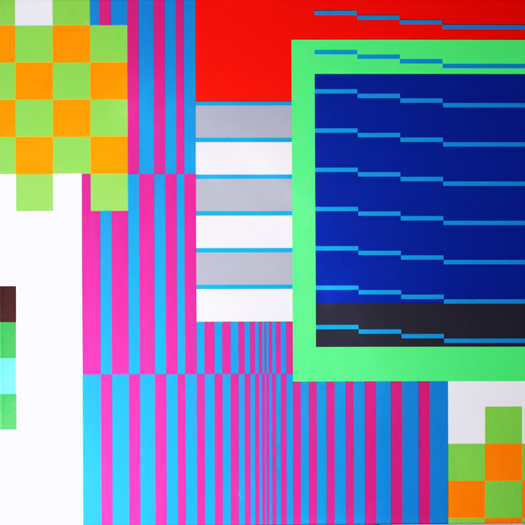 Find Your Way Out
. Acrylic on canvas. 40 inches square (102 x 102 cm). November 2015.
---
Just Trying to Stay Positive was the next piece. In fact, it's a remix of Find Your Way Out. Painted in the aftermath of the Paris terrorist attacks of November, this work has a darker ground, punctuated by fluorescent flourishes that break through the clouds.
Just Trying to Stay Positive
. Acrylic on canvas. 40 inches square (102 x 102 cm). December 2015.
---
Concluding this trio is As New As Now, painted throughout the final days of 2015. The piece's colorway — fluorescent greens, fluorescent purples, navy, gray, and black — was one that I had wished to explore for quite some time. This painting was all about having fun. It was one last piece to close the calendar year. I was taking a flyer.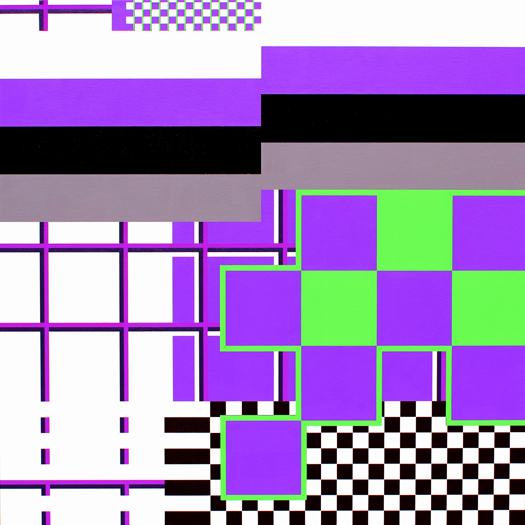 As New As Now
. Acrylic on canvas. 40 inches square (102 x 102 cm). December 2015.
---
Throughout the process of making these three paintings, I learned something about myself. Standing before these paintings once they were completed, I enjoyed what I was seeing. But I also felt as if they were missing something. Pardon the pun, but I felt boxed in. Without curves, my paintings somehow lack my personality, or my imprint. There has to be a curve in there somewhere!
In the end, I think I explored the territory I set out to discover. My next paintings may go in a completely different direction. Time will tell. I'll be sure to share my latest work in this space in the coming weeks.
— Grant Wiggins