I'd like to share with you a pair of images of my work hanging in the Chaos Theory 11 art show at Legend City Studios, 521 W. Van Buren, in downtown Phoenix. See a Google map for Legend City Studios here.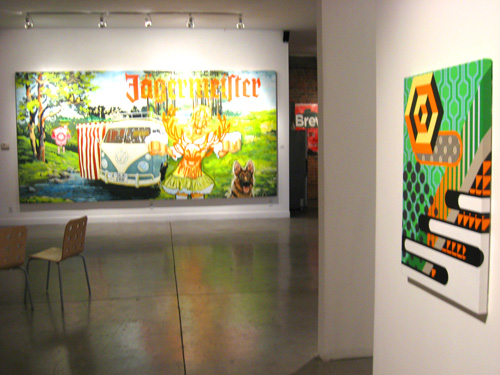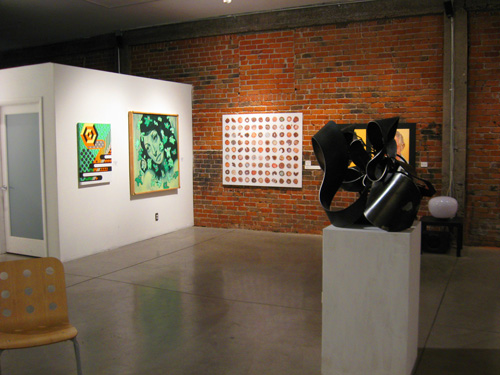 Top:
Randy Slack
's massive, eye-popping
Stammbaum
(left) with
Hexagonal Banfield Forcefield
, my newest
modern graphic painting
, in the foreground.
Above:
Hexagonal Banfield Forcefield
among works by Jason Rudolph Peña and Joshua Rhodes (both part of the
Five and Six Gallery
collective), as well as Rick Toerne (his great work is obscured, sadly), and Pete Deise (metal sculpture).
---
Uniting the work of more than 50 Phoenix, Arizona artists, this year's Chaos Theory appears to be a huge hit. "Chaos Theory didn't necessarily make First Friday all that chaotic," writes Phoenix New Times in a slideshow introduction, "but it did provide some of the more creative and cutting edge artwork of the evening."
See my previous blog post about Chaos Theory 11 here.
Chaos Theory 11 will remain on view through Sunday, November 21. The show's final weekend will coincide with a pair of concerts by the Downtown Chamber Series on November 20 and 21.
Tags: maximalism, phoenix first friday, shows