I recently had the profound pleasure of traveling to Milan as a guest of luxury fashion house Jil Sander, to view its Fall / Winter 2015 men's collection — from a front-row seat.
Graphic motifs from several of my minimal paintings will have a presence in the sportswear and casual range of Jil Sander's fall collection for men, which will be available in some of the world's finest stores starting in September.
What's more, invitations to the runway show featured a reimagined version of my minimal, 70s-inspired painting Blactan.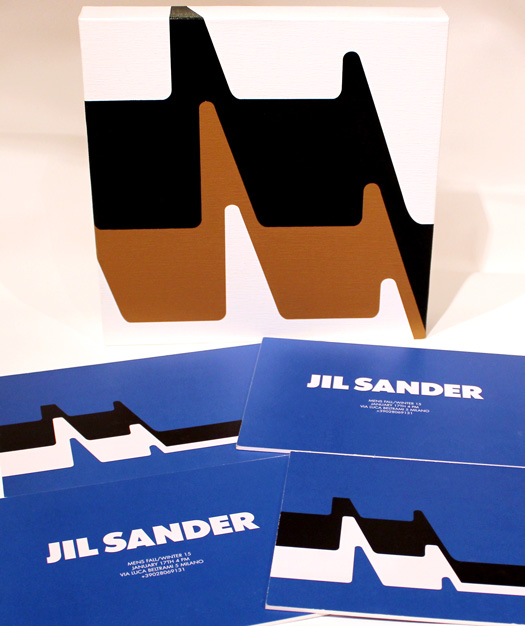 Above: The study for my 2007 painting
Blactan
among invitations to the runway show for Jil Sander's Fall / Winter 2015 men's runway show, held January 17, 2015, as a part of Milan Men's Fashion Week.
---
I was contacted by Jil Sander in December, out of the blue, to my great surprise. Quite simply, the brand's design team had found my work online, and wished to license selections from my catalogue.
Naturally, I didn't say no.
All the same, I have said "thank you" to the Internet a few times.
Nearly 6,000 miles (9400 km) separate my studio in Tempe, Arizona and Milan. Traveling between the two points takes nearly one full day.
But it's particularly fascinating to me that, despite this distance, my work might resonate with, and possibly inspire, a highly accomplished designer and his team — one that's virtually on the other side of the world from where I paint.
The world is even smaller than I once imagined.
I have long believed that my paintings could have a parallel life in fashion. Friends and family have asked me this repeatedly, "Why don't you make clothes? Your paintings would look fantastic on shirts!" However, I never imagined that a global luxury brand like Jil Sander would get the process started before me.
Led by creative director Rodolfo Paglialunga, Jil Sander's fall/winter 2015 runway collection for men was impeccably presented. I was immensely impressed by the overcoats, which balanced angularity and structure with luxuriousness and comfort. I can also appreciate how the collection's palette was accented by punches of bold hues, such as vivid red-orange, which blazed down the runway more than once.
It was a thrill to have the opportunity to meet Jil Sander staff in person. The fashion house has been perfectly generous with me.
Once images of garments featuring my work become available, I will certainly share them with you in this space. There's more to come this fall.
No excuses — there's plenty of time to set aside some of your wardrobe budget for a Jil Sander / Grant Wiggins sweater!
Until next time, ciao ciaoooo!
— Grant Wiggins
Tags: fashion, jil sander, minimalism, paintings