No question about it, no matter how many times I see it, "How the Grinch Stole Christmas!" makes my brain malfunction every time.
"How the Grinch Stole Christmas!" is 26 minutes of pure retina-wrenching, adrenaline-pumping color combinations. Sure, the tale is rich with imagery of seasick crocodiles and three-decker sauerkraut and toadstool sandwiches with arsenic sauce. And the story's heartwarming conclusion is a classic.
What really interests me, however, is the kaleidoscope of colors happening in practically every scene. The film's approach to color alone is enough to make any misanthrope believe in the good of humankind!
Is there anything like the town of Who-ville, seen from the slopes of Mount Crumpit? Can sense be made of how the magenta-washed houses of the Whos take on a purple tincture in the dim shadows of night? Can words adequately describe how the Grinch, in his limegreen glory, casts a bilious aura upon everything that surrounds him?
Last time I viewed the movie, 25 scenes caught my eye. Next year, another set of totally different scenes may interest me. Every time I watch "How the Grinch Stole Christmas!" the movie rings true and anew.
One scene in particular that stands out in my mind is when the Grinch realizes the true meaning of Christmas — that this horribly overcommercialized holiday is about more than gifts after all. (That's because it's about color combinations! Green and red! Silver and gold!)
Just two minutes before the close of the film, we witness the Grinch careening down Mount Crumpit, with Max in tow, with the glowing morning sun of Christmas day intensifying in the sky. Here, yellow, purple and brown come together in an dizzying onrush. The irony: The Grinch's Christmas transformation is portrayed in completely un-Christmaslike, complementary colors!
In appreciation of director Chuck Jones and his genius staff of animators and colorists, I'd like to share with you a few of my favorite scenes, and their color combinations' hex values:
The Grinch and Max begin their descent down Mount Crumpit.
---
As their descent continues, a rocky background alternates with blue trees, producing a visual rhythm.
---
The Whos' fantastic élan for interior decor exemplified.
---
Who-ville on Christmas morning, seen from Mt. Crumpit.
---
The Whos join into a circle on Christmas morning.
---
Bells ring in the center of Who-ville.
---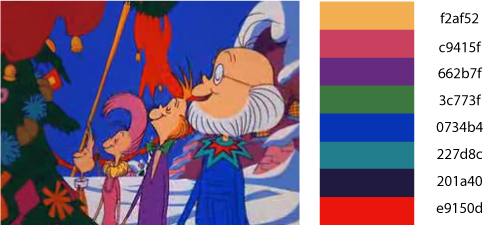 What's going on with that crazy lapel — whatever it is?
---
On that note, I wish you a fabulous holiday. See you in the next decade!
Tags: color combinations, movies & tv