The Crouton P. Residence on 9817 N. Central Ave., most likely designed by Ralph Haver, AIA, in 1964. Photo courtesy of
Aaron Kimberlin
and Alison King.
---
Held at a variety of locations throughout metropolitan Phoenix last week, the 2011 edition of Modern Phoenix Week offered exciting opportunities to attend a range of free presentations and see inside some rare and remarkable homes within the Sunnyslope neighborhood of north-central Phoenix.
I was proud to be involved in Saturday's Modern Phoenix Expo — offering a signed, framed print as a door prize there — and displaying my paintings within one of the 12 homes on Sunday's home tour — the midcentury modern Crouton P. Residence at 9817 N. Central Ave., shown at right.
Here I would like to share with you photos of my paintings on display at the aforementioned residence, which was in all likelihood was designed by legendary architect Ralph Haver, AIA.
Modern canvas painting Invisible Star
in the dining area.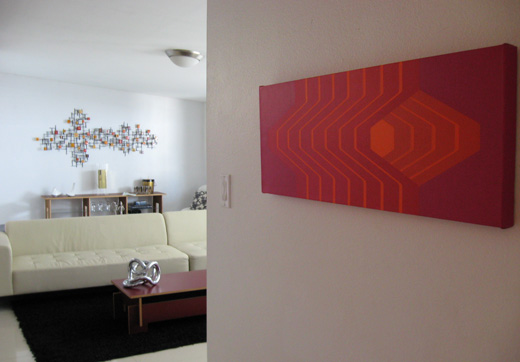 Purple abstract painting Circles with Corners 5
in the hallway.
Geometric abstract artwork Vertical Waveforms
in the entry.
Another view of
Vertical Waveforms
the entry, which is illuminated by a clerestory window that features colorfully potted succulents.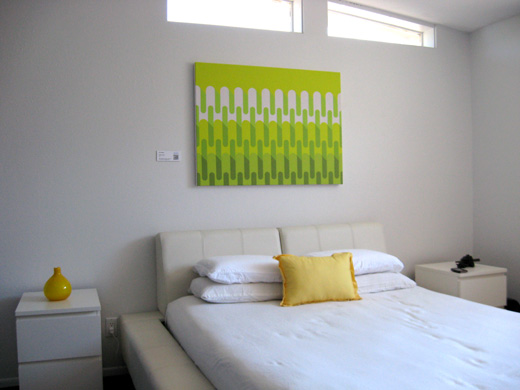 New geometric minimalism piece Monolithic Waves
in the master bedroom.
I thank event organizers Alison King and Scottsdale Museum of Contemporary Art for offering me a chance to participate in this event. It was a memorable honor to be a part of the home tour!
Tags: geometric art, modern phoenix, shows