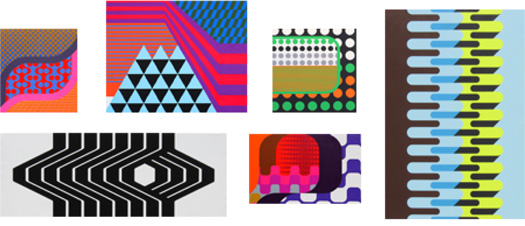 Paintings I will be showing at Parallax Art Fair New York
, November 16 – 18, 2012; see links below for details about these paintings.
---
I cordially invite you to view my work in New York this month, at Parallax Art Fair New York, held November 16 through 18 at the Prince George, 15 East 27th Street, Manhattan.
A private VIP viewing will be offered Friday, November 16, from 7 to 9 p.m. The show will be open to the public the weekend of November 17 – 18 from 11 a.m. to 5 p.m. For free passes to the weekend dates, visit http://parallaxartfair.eventbrite.co.uk.
I will be exhibiting six works at Parallax Art Fair New York:
You'll be able to find my work in Gallery 25. Look for the fluorescent orange, pink, and chartreuse paint. You can't miss it!
After hosting several art fairs in London, Parallax debuted in New York this past August, presenting works by more than 180 artists from 30 countries. For this upcoming edition of Parallax Art Fair New York, more than 200 artists are expected to exhibit between 2,000 and 3,000 works of art.
Tags: abstract painting, geometric art, shows