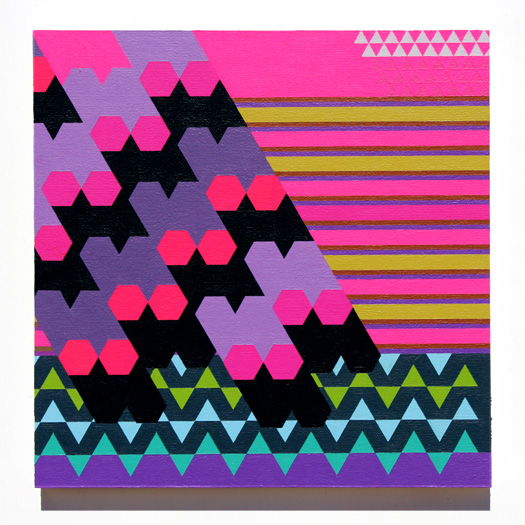 Lost in Space
: 15-18 October 2013. Acrylic on panel-mounted canvas. 12 inches square (30.5 cm x 30.5 cm).
---
I am extremely proud and excited to be one of 13 artists showing in Punchline, which opens Saturday, November 9 at The Institute Library in New Haven, Connecticut. This is perhaps my highest-profile show in the East Coast to date.
Punchline explores the use of humor in abstraction. According to curator Kevin Daly, who is also an accomplished artist in his own right, the exhibition is "less self-consciously concerned with relevance and criticality than with the presence of the whimsical." He cites how all of the artists in Punchline "employ playful processes or formal languages."
Lost in Space (shown above) will be among the five paintings I'll be exhibiting in Punchline. The title for this painting is a pun on the process of painting. As I produced this painting throughout mid-October, I definitely felt lost in the act of making. In fact, I scrapped the first attempt. On the second, the color palette changed several times, and it seemed as if I could barely hold onto the creative reigns, as paint layers built up. When this happens, a painting can go either way, for better or worse.
Punchline will remain on view through November 27. Here's the full roster of artists in the show: