Through the debut of the Jil Sander fall/winter 2015 collection for men, my paintings have made a stylish transition from stretched canvas to ready-to-wear art. Every day, it seems, new examples of my collaboration with the Milan fashion house are surfacing online.
The experience of watching the collection unfold has been, to put it mildly, utterly thrilling.
Some of the newest examples of our art-meets-fashion partnership are now available online at Farfetch.com. The boutique O', of Parma, Italy, is offering a series of Jil Sander T-shirts and sweatshirts that reimagine my 2011 painting For Never, an Ever, shown below.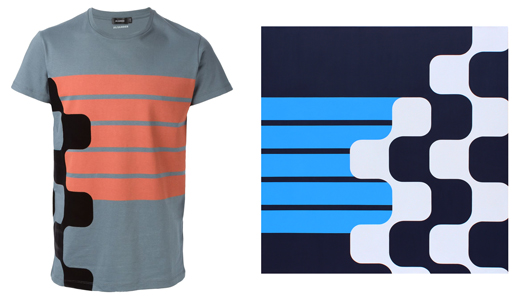 Several new pieces in Jil Sander's Fall/Winter 2015 menswear collection work with the cetral motif of my minimalist painting
For Never, an Ever
, top right. Images courtesy of
farfetch.com
.
---
I absolutely love all of these pieces. Without question, my creative partners at Jil Sander have stayed true to the spirit of my work.
In particular, what catches my attention is the green T-shirt with fluorescent pink stripes. I love color. The bolder, the better. Since my earliest minimal works, going back to my 2003 painting Tyotk Mölxx, I have found ways to incorporate fluorescent paint into my most reductive compositions.
Despite popular opinion, minimal does not need to mean monochromatic.
Jil Sander Creative Director Rodolfo Paglialunga shares this perspective. In a recent interview with MatchesFashion.com, he opines that minimalism "is not only about exclusively using black and white; it can be bright and luxuriant, it can be sexier than we think and, of course, it depends on the person who wears it."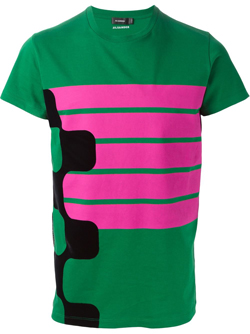 I love this shirt. It epitomizes "The New Minimalism." There's clarity, with room for personality. Find it at
store.jilsander.com
.
---
Since his appointment as Jil Sander's creative lead in April 2014, Paglialunga has sought to honor his fashion house's rich heritage of minimal cool. At the same time, he's ushering it forward, toward future possibilities. The Jil Sander of now is still minimal, but in tune with the realities of our time.
"I want to evolve the brand with some kind of revolution," Paglialunga asserts. "'New minimalism' is the key phrase for a perfect combination between a glorious past and an innovative and smarter future."
Perhaps the revolution is already underway. It's the perfect moment to recast minimalism in new light. Let's make that a big, bright, bold fluorescent light — one that illuminates a clear path forward toward modernity, but affords room for color and personality.
Just as notions of minimalist fashion have been tied for too long to the 1990s, discussion of minimalist art has been for too long associated with what was made in the 1960s. The past is important, but let's stay in the moment, with an eye on what's ahead.
Long live the revolution — the "New Minimalism" revolution!
Tags: fashion, jil sander, minimalism