There's plenty of time to see the Beyond Minimalism art exhibition I'm a part of at Hudson|LINC Gallery. The show will be on view through Friday, May 3.
Opening night, held March 19, was well attended. Los Angeles artist and designer Sacha Baumann in a very nicely done blog post describes Beyond Minimalism as "really good — bright, playful, tactile," and offers several interesting glimpses of my paintings on opening night.
Below are photos of my work in Beyond Minimalism: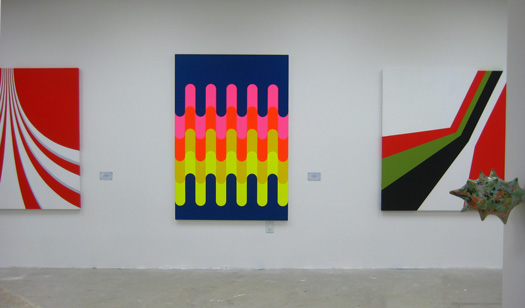 From left to right, the paintings are:
Hudson|LINC is open Monday through Friday, 11 a.m. to 4 p.m. and by appointment. The gallery is located on the second floor of the Pacific Design Center's Blue Building. More at hudsonlinc.com.
Tags: abstract painting, geometric art, minimalism, shows