Graphic geometric art
: New painting by Grant Wiggins,
Omphems Reyall 1
.
---
Graphic geometric art is really what I love to make, and it's really what inspires me to keep innovating artistically.
My take on, or version of, graphic geometric art places emphasis on geometry — dynamic, visually charged compositions — but affords room for negative space, to achieve a balance. The result is a balance between minimalism and design-inspired maximalism.
That said, the newest addition to my portfolio is a series of three graphic geometric art works titled Omphems Reyall. The first painting in this series measures 20 x 32 inches (51 x 81 cm). The following pair is of paintings each measure 10 x 16 inches (25 x 41 cm).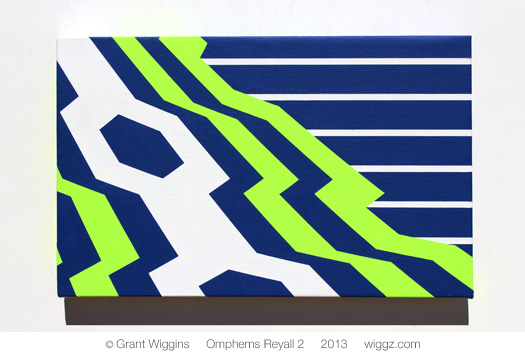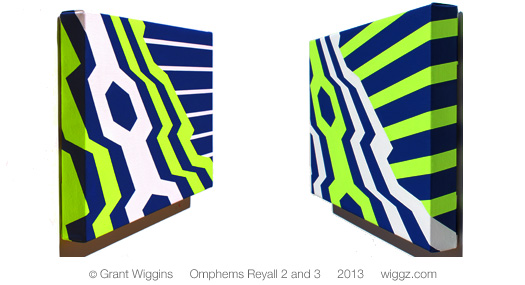 Omphems Reyall 2 and 3, respectively.
---
The invented word "Reyall" in the title is a pun and reference to Real Madrid football club, whose away jersey for the 2012/2013 season (below left; via realmadridshop.com) is the inspiration for this series' color combination. As these graphic geometric art works began to take shape, the colors also reminded me of the paint scheme for the Subaru Impreza WRX rally car (below right; image via Ericd on wikipedia.org).

Hexagons, stripes, and geometric patterns — I just can't get enough of them!
Tags: abstract art, abstract painting, geometric art, paintings