This post may/may not interest you. It's one part Norm Abrams, another part Bob Ross. If it does not interest you, I cordially invite you to visit one of the many far more interesting websites on the Internet, such as this.
Kidding aside, I would like to convey to you what I'm up to, and what my goals are for this week. Over the past couple of days, as time allows, I have added an additional 2.5 inches of depth to already-assembled 30-inch-square stretchers.
The strips I attached will give this painting a 4-inch depth, or "cradle," allowing me to paint the sides. The design will wrap around the edges, which is a pretty cool effect. I produced a "proof of concept" a couple of weeks ago — the painting called Circuit (via my flickr page):
Once I sanded the edges, I stapled poster board to the side, and sealed the seams with tape. This way, no surface variations will be present on the sides of the stretched canvas: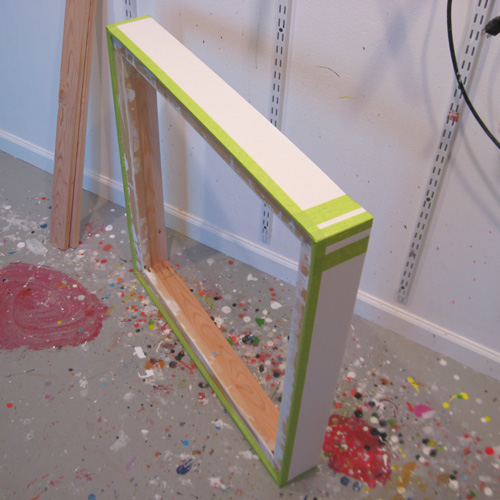 This is the best alternative I know of for creating a deep-cradle painting. I have built my own deep-cradle "box canvases" before—with a panel of MDF mounted atop strips of wood. I primed these wood/MDF boxes, then painted over the priming. Problem is, those box canvases were heavy! And if I bumped or dropped them, the wood instantly dented.
Using canvas, however, the weight is reduced (cheaper to ship); there's only limited potential for dings and dents; and there's the benefit of a "tooth" to grab the paint ( = less brush strokes showing = more flatness).
That said, my goals for this week are to complete two of these paintings, both of which I will enter into an upcoming juried show. The first piece will be Circuit 2.0; the second will be Civvik 2.0 (a larger version of the painting below). Also I hope to produce a couple of works on paper. It will be a busy week!
Also, I've started to write poetry again, for the first time in years. Not just in my head, but actually conveying the lines to paper. I do not know where this is coming from. But it feels like a good thing.
I have long harbored an idea to write a book called 2600 Poems by John Ashbery, which would neither have 2,600 poems, nor be written by John Ashbery. Quite possibly, these poems would land in that book, which ultimately might have a different title.
Poem titles I thought of last night:
1.) All of the Factors, Including the Fact That
2.) The Size and the Structure
3.) Cheer You Up with a Turkey Sandwich
Here's the opening lines of "The Size and the Structure":
More or less,
Things are becoming
More or less
Complex.
That's the way I see it,
At least.
I'm not sure where to take the poem from here. It's not much, but it's a start. It's all about incremental progress in 2009!
Tags: in the studio, sketches