Milan fashion house Jil Sander has unveiled its Fall/Winter 2015 menswear collection, which features motifs from my minimalist paintings, such as
Ocxiom 2
, shown at right.
---
Eye-catching contrasts, monochromatic motion, angles and stripes: My minimal paintings' motifs have made the transition from wall art to wearable art. Global fashion house Jil Sander has just unveiled its Fall/Winter 2015 collection for men, a major event that marks my artwork's debut in designer fashion.
In January, after my trip to Milan Men's Fashion Week, I announced that graphic inspirations from my minimal paintings would have a bold presence in Jil Sander's looks for fall. This week the initial results of our creative partnership are arriving in the world's finest stores, including store.jilsander.com.
My Ocxiom series of paintings takes to the streets in a crewneck wool-and-silk pullover. While the sweater is a vertical composition and my painting is square, the sweater employs a greater number of slanted stripes, matching the painting's all-over composition. The design continues along the sweater's sleeves, achieving an eye-catching contrast.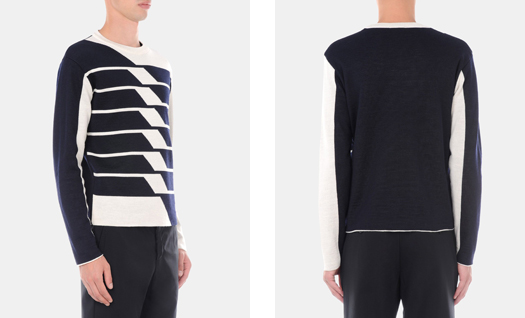 Featuring the motif of my
Ocxiom
series, this Jil Sander pullover is an 80% wool and 20% silk blend. Details at
store.jilsander.com
.
---
I'm inspired to see how my work has been reimagined by the Jil Sander design team, led by creative director Rodolfo Paglialunga. Throughout the transition from painted canvas to artistic attire, my creative partners have stayed true to the spirit of my work.
In another design, my Motus series of hard-edge paintings — motus is Latin for "motion" — brings energy and fluidity to a merino wool pullover, which features intarsia interplay in navy, gold, and black.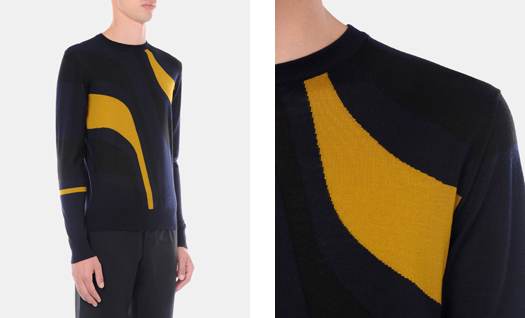 Featuring the motif of my
Motus
series of paintings, top right, this Jil Sander sweater is 100% virgin wool. Details at
store.jilsander.com
---
I have long believed that my paintings could have a "parallel life" in fashion. It is an honor that Jil Sander — such an esteemed and innovative fashion house — is making that imagined life a reality. The next few weeks should prove tremendously exciting!
Tags: fashion, jil sander, minimalist painting